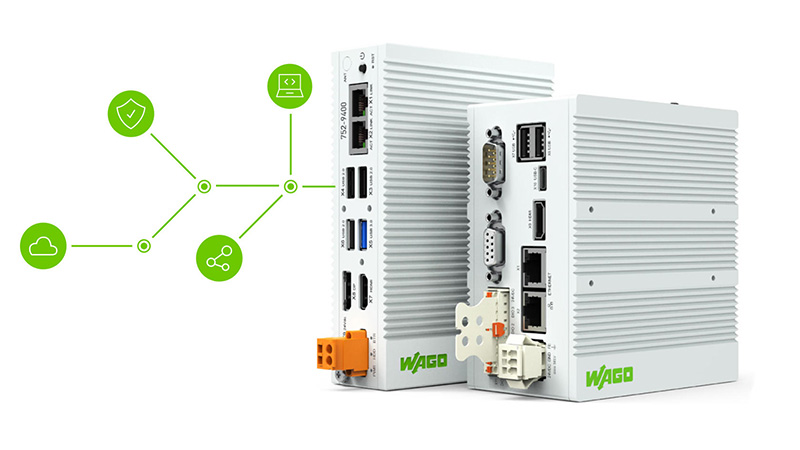 Optimal Use of Data in the Field
In many cases, transferring data from machines and systems directly to a cloud solution is resource-intensive and infeasible due to the low latency required in industrial environments. Edge computing has established itself as a concept that combines the advantages of decentralised cloud architectures with those of a local network architecture.
OT and IT levels within components are converging
The OT and IT levels within components are converging more and more. Not least, this lets employees involved in production know what beneficial processes exist in the IT domain. He gives the example of Docker technology.
Since all the processes are becoming more and more intelligent, more and more data is also being collected. Instead of enormous data volumes being sent to the cloud, a portion of the processing takes place at the network's edge. So data processing is becoming more and more important where real-time data is involved.
It is also possible to implement low latency applications, more and more computing power is needed and this places corresponding demands on databases directly in the field. That can't be covered by a conventional PLC, but servers are usually overengineered for such applications, therefore, WAGO has introduced two new edge devices that meet these needs: the Edge Controller and the Edge Computer. They benefit high-level language programmers, since they get closer to the sensor as the data supplier.
The last mile ceases to be a hurdle; the IT and OT environments merge. Cloud services can also run on the edge devices, for instance to ensure that only critical data is transferred to WAGO Cloud. Edge devices have additional advantages when data needs to be buffered temporarily, for instance in mobile applications.
With an extensive selection of interfaces
Both new devices are based on cabinet-compatible hardware, can be powered with 24 V and fit perfectly into the automation environment. The Edge Controller is equipped with an ARM Cortex-A9 quad-core processor and an extensive selection of interfaces, including two Ethernet ports, one CANopen port and two USB ports. The visualisation can be displayed locally via the HDMI interface.
Alternatively, the visualisation can also be provided to other Web clients via the integrated Webserver. It also has a serial RS-232/485 interface and four digital inputs/outputs for connecting local devices or sensors. The device can also be connected with Modbus. The diversity of interfaces allows the device to be integrated easily into existing systems.
The ability to DIN-rail mount the Edge Controller – either horizontally or vertically – saves space. Project design can occur in the familiar "e!COCKPIT" engineering environment, so it fits seamlessly within WAGO's automation solution ecosystem. The firmware is also very similar to that of our HMI devices. This also ensures a high degree of reusability on the software side. For instance, existing WAGO Docker containers can be used.
The Edge Controller can be provided with additional licenses for connecting to Bacnet or Ethercat. Data can be transferred to the cloud via MQTT. This makes it very easy to connect to the WAGO Cloud or other cloud platforms. It is easy to set up a multi-cloud landscape.
WAGO recognised the great significance of cloud communication very early on and integrated the MQTT protocol into e!COCKPIT. Our own high-performance OPC UA stack is the next step now. However, OPC UA communication is already possible now too via the Codesys stack.