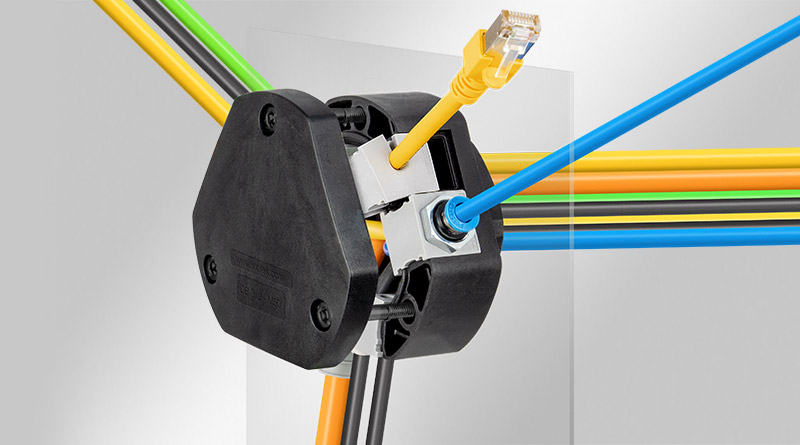 DB Distribution Box - the 360° cable entry system
With the new distribution box, centrally routed cables can be distributed 360° in all desired directions. Cables with and without connectors can be routed, sealed with IP54 (acc. to 60529) and strain relieved in accordance with EN 62444.
The DB Distribution Box at a glance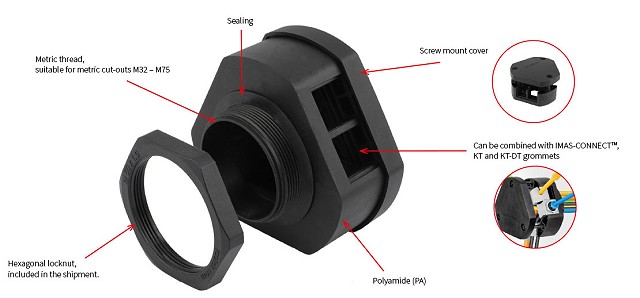 The distribution box is suitable for metric cut-outs M32 - M75 and can be fixed with a locknut, which is included in the delivery.
When using multi grommets, up to 48 cables can be routed and a high cable density is achieved. Thanks to the screw mount cover and the use of split cable grommets, retrofits, repairs and maintenance can be done much more easily and quickly.
Specifications
IP rating (EN 60529) IP54
Material Polyamide
Operating temperature -40 C° to 140 C°
Properties vibration proof, silicone free, halogen free
Mounting options Fasten with locknut
Advantages & benefits
Fast and easy assembly
Easy distribution of cables in a 360° angle
Warranty on pre-terminated cables remains
Retrofits, repairs and maintenance can be done much more easily and quickly
Suitable for metric cut-outs M32 – M75
Strain relief according to EN 62444
Use of the proven KT grommet system
High cable density, wide variety of grommets
High flexibility with the use of multi-range and IMAS-CONNECT™ adapter grommets
Hexagonal locknut included in the delivery
High stability, vibration resistant
Mechanical protection of the central entry point