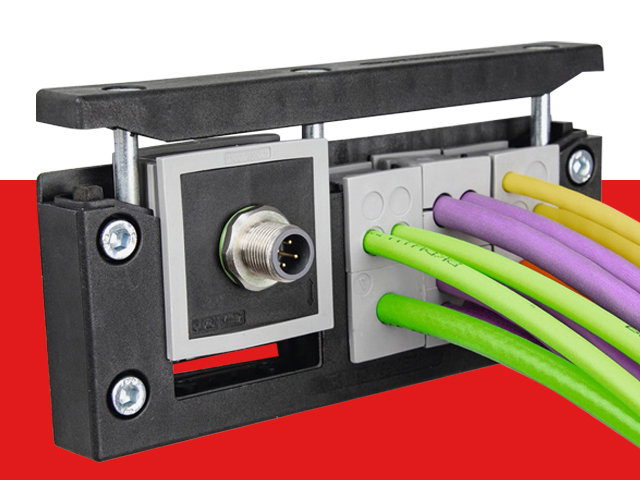 Icotek now offers cable entry systems especially for use in cleanrooms.
The tried and tested cable entry frames KEL-ER with their matching KT grommets, which are designed for cables with connectors, are already available. For cables without plugs, the KEL-DPZ cable entry plates are also available as a cleanroom version.
All icotek cable entry systems for cleanrooms have been tested and certified by Fraunhofer IPA and are, therefore, suitable and certified for class 1 in accordance with DIN EN ISO 14644-1: 2015.
The highest demands are made in class 1. Cleanroom suitability describes the emission of particles. In cleanrooms, the release of particles must be kept as low as possible. The particles found in normal ambient air can contaminate, damage and destroy products in certain branches such as i.e. the semiconductor and chip industry, the pharmaceutical and food industry. The use of special and suitable materials in the manufacture of icotek cable entry systems ensures extremely low emissions in accordance with DIN EN ISO 14644-8: 2013-06. The cable entry systems are - depending on the version - certified up to IP68, FDA-compliant, UL Type 12 / 4X certified and suitable for a wide range of applications. Samples and certificates can be obtained from the manufacturer.
Split cable entry system for routing and sealing cables with connectors, providing an IP66 / UL Type 12/4X* rating and strain relief for cable diameters from 1 to 16 mm (single-hole grommets KT 1 - 15) and 16 to 35 mm (single-hole grommets KT 16 - 34).
The cable entry system is easy to install. Cable grommets are placed into compartments and are securely fixed to the frame during assembly. The KEL-ER frames match exactly the cut-out dimensions for 10-, 16- and 24-pin standard industrial connectors. Either a cut-out of 36 mm or 46 mm in height can be chosen depending on the cables being routed. The KEL-ER-B frame matches the cut-out dimensions of 46 × 46 mm measuring instruments. The single-row versions KEL-ER-E are particularly suited for flat connectors. The small frames are ideal for applications with limited space. A flat rubber gasket is included in the shipment.