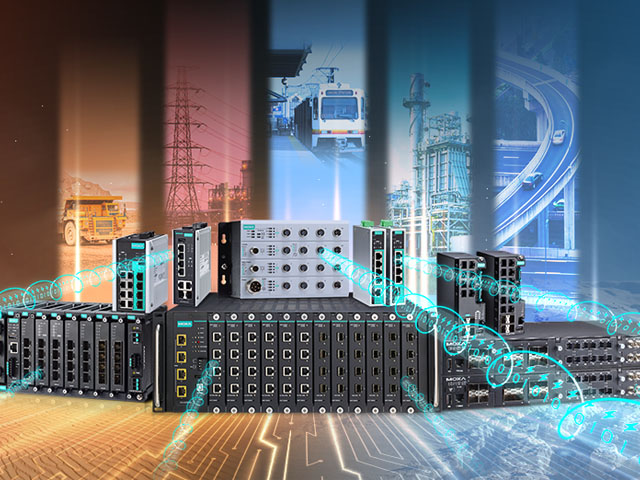 The Most Comprehensive PoE solutions for Mission-Critical Applications
As a leading provider of edge connectivity, industrial computing, and network infrastructure solutions, Moxa offers the most comprehensive portfolio of industrial PoE switches that ensure reliable power sourcing and delivery to your critical network deployments.
PoE/PoE+/PoE++
All PoE standards (PoE/PoE+/PoE++) are supported. Moreover, Moxa's proprietary PoE solutions with 36 W and 60 W high power output satisfy custom needs.
Industrial Reliability
Rugged hardware is designed for harsh environments. Moxa's many innovations ensure switches are built to last and deliver uninterrupted network communication for critical automation systems.
One-Stop Shop for a Complete Lineup
Our comprehensive PoE solutions with a lineup of more than 100 models offer one-stop shop flexibility. We cater to all power budgets, HV/LV redundant power inputs, Ethernet interfaces, form factors, installation requirements, and more.
Industrial Applications Deployed with Moxa PoE Switches
Digital Mining
Real-time Video Streaming and Monitoring Network for Autonomous Haulage System in Surface Mining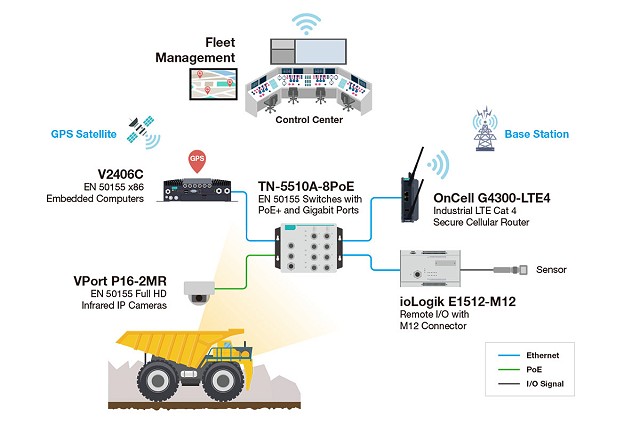 Requirements
A reliable cellular communication and networking solution for real-time monitoring of autonomous mining trucks
A compact, robust design for on-board equipment that withstands constant vibration and harsh environments
PoE switches for powering the powered devices (PDs) on trucks
Ease of configuring and diagnosing
Why Moxa
High MTBF and five-year warranty
Anti-shock and anti-vibration PoE switches, IP cameras, remote I/O, and industrial computers with M12 connectors, all with dust-tight IP rating
OnCell LTE cellular router featuring VPN, firewall, and NAT functions to protect internal networks from unauthorized access
Fanless design that delivers outstanding thermal performance
Awarded multiple industry certifications
ABC-01 Series configurators offer automatic network configuration backup and restoration, improving maintenance efficiency while reducing system downtime
Smart Rail
Communication Network for Tramway Ticketing System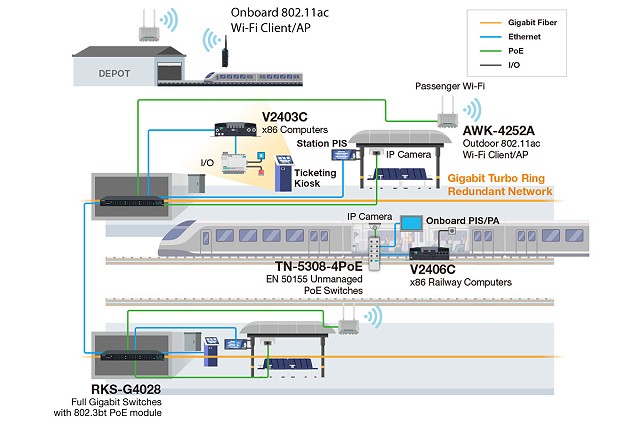 Requirements
Long-distance data transmission from multiple ticketing kiosks for traffic analysis
Redundant network connectivity to ensure uninterrupted system operations
Industrial-grade durability to withstand onboard shocks and vibrations
Cost-effectiveness
Why Moxa
RKS-G4028 Series' fiber module supports long-distance communication
RKS-G4028 Series with optional 802.3bt PoE module supports 90 W power output per port
Turbo Ring and Turbo Chain technologies support Gigabit network recovery time of less than 50 ms at 250-switch load
RKS-G4028 Series features a wide operating temperature range from -40 to 75˚ C
EN 50121-4 certified to withstand extreme wayside conditions
Complete communication networks with network infrastructure, edge connectivity, and computing solutions to ensure interoperability and reduce system integration costs
Intelligent Transportation
Smart City Traffic Improvement with Intelligent Transportation System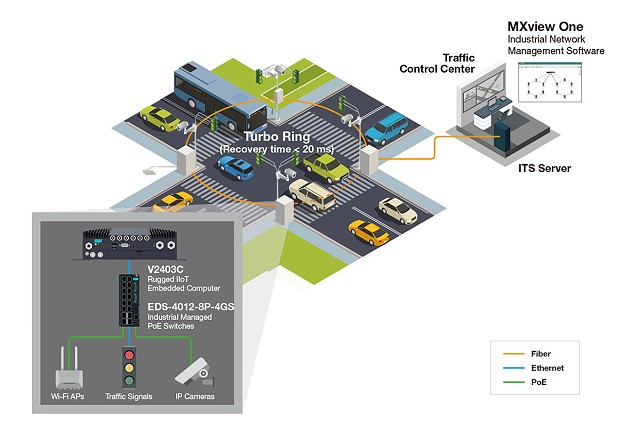 Requirements
Effective traffic management solution for communication between vehicles, operators, and onsite control stations
Remote monitoring as part of onsite failure detection
Real-time data collection from various roadside sensors
Robust design that withstands the harsh outdoor environment
Why Moxa
Comprehensive solution for real-time response
Moxa's V2403C Series is a cutting-edge computing platform that acts as a roadside unit (RSU) for collecting data from sensors and surveillance videos from cameras. Via Moxa's EDS-4012 Series managed switches, it also serves as a bridge between edge computing devices and the ITS server for real-time communication
Moxa's EDS-4012 Series managed PoE switches supply adequate power to IP cameras and Wi-Fi APs for municipal free internet service
Moxa's Turbo Ring technology ensures a network recovery time of less than 20 ms and STP/ RSTP/MSTP offers network redundancy, thereby helping maintain stable networks for real-time communication
Industry certified for secure and stable operation under harsh conditions
Oil and Gas
Remote Pipeline Monitoring
Requirements
Long-distance Gigabit network backhaul to connect subsystems in the field
Reduce power cabling issues for remote IP cameras and other PDs
Reliable, high-density Ethernet switches with multiple interfaces that can aggregate real-time video, voice, and data from remote subsystems
Resilient industrial-grade devices that can operate in harsh conditions
A DIN-rail design to fit inside cabinets
Why Moxa
Modular switches with fiber interfaces to connect pipeline subsystems to the remote control center over long distances
Adequate PoE power supply
Gigabit Turbo Ring supports network recovery time less than 50 ms
Fanless, compact, and rugged ATEX Zone 2-and C1D2-certified design featuring DIN-rail installation
MXview One Series networking management software offers real-time monitoring of network status from the control center
Power Substations
Security Monitoring Network for Power Substation Access Control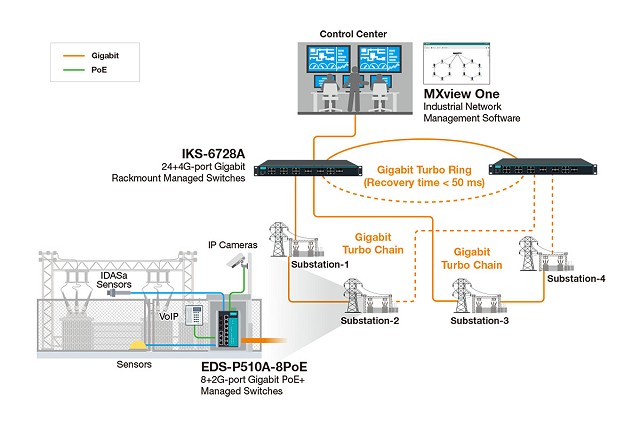 Requirements
Millisecond-level recovery networks to connect more than 150 substations nationwide
24/7 reliability for continuous security monitoring
Connectivity and availability during EMI and surge conditions
Reduce power cabling issues for remote IP cameras and VoIP
Real-time monitoring and management to reduce costly visits to remote unmanned locations
Why Moxa
EDS-P510A Series PoE switches allow for high bandwidth, long-distance transmission as well as PoE+ power supply to remote powered devices
EDS-P510A Series and IKS-G6728A Series support Turbo Ring and Turbo Chain network redundancy
Industrial-grade products designed to withstand harsh operating conditions
Embedded Smart PoE function enables the EDS-P510A Series PoE switches to detect failures and auto-reboot powered devices to ensure continuous operation
Container Terminal Automation
Reliable PoE Networks for Crane OCR Systems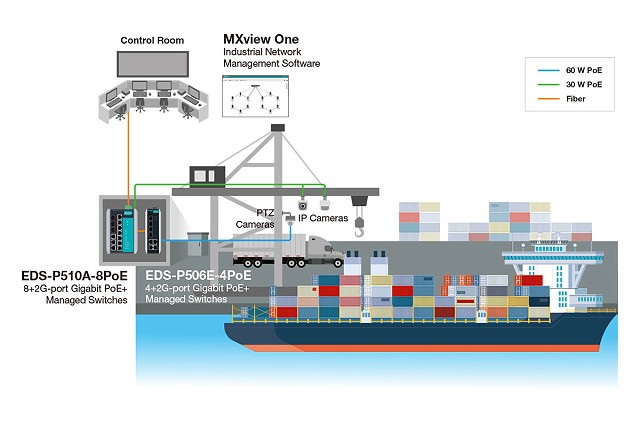 Requirements
PoE switches to overcome wire-deployment obstacles at height or on the ground
Each port supplies 60 W power to high-resolution cameras, including PTZ cameras, for accurate container recognition
Robust switches must withstand outdoor environments, particularly constant exposure to humid and salt-rich coastal air
High-reliability networks to ensure real-time image processing and transmission
User-friendly network management software that allows operators to manage the crane OCR system network remotely and effectively
Why Moxa
Comprehensive PoE switches portfolio that satisfies all IP camera power sourcing requirements
To power up multiple cameras, the EDS-P506E-4PoE Series supports up to four 60 W PoE ports with a 180 W power budget
High EMI protection, a fanless design for harsh outdoor environments, and a wide operating temperature range from -40 to 75°C
Smart PoE function supports automatic PD failure detection and rebooting for network recovery, eliminating or minimizing the need for manual inspection or maintenance
MXview One Series network management software features real-time visualization of network status to improve crane OCR system reliability