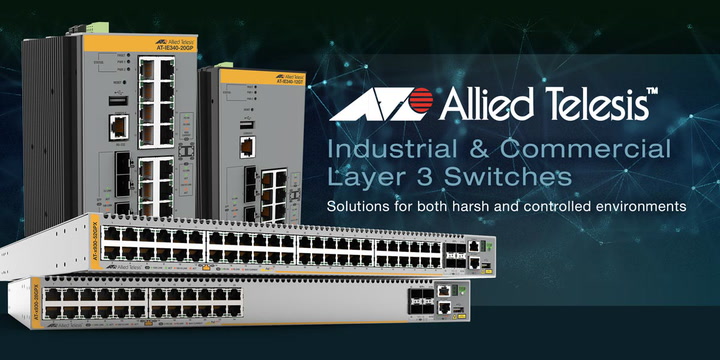 ECS is proud to announce we are now an authorised reseller of
Allied Telesis Business Network products.
Networks for Today & Into the Future.
In a society focused on Internet of Things, where devices are connected to a network with or without wires, a comfortable and secure network infrastructure is not only necessary — it's required. Today, more than ever, you need a technology partner that has both the vision and the capability to take your network communications to where you need them to be.

Currently Allied Telesis are engaged in some of the most advanced and innovative next-generation network research, focusing efforts on development and production of more intelligent, autonomously controlled and managed systems that will be required to meet the demands of the future. Their R&D investments are putting them on the main stage in this exploding era of IoT. As cloud computing uses servers, applications and other resources linked via a network, the infrastructure of that network and the ability to autonomously discover, manage, troubleshoot and resolve network issues will become fundamental to network operations. That's where Allied Telesis here to help.

Allied Telesis have nurtured both the advancement of network technologies and the expertise of their staff as a network equipment maker to develop the technologies that your business needs
---
Smarter Networking
At ECS, we believe Allied Telesis will complement our ever-growing portfolio of high-quality brands with their dynamic range of high-end "Japanese Engineered" products.
From this range, we have selected five different series of Layer 3 Industrial and Commercial Switches to add to our own product offering.
Our qualified Allied Telesis Network Engineers are ready to support both the industrial and commercial Layer 3 Switch ranges from Allied Telesis with technical support, sales, and aftersales service.
Related Topics