Moxa's rugged palm-sized Arm-based UC-2100 computers are reliable and secure IIoT gateways with Ethernet and ESD-protected serial ports.
The mean time between failures (MTBF) is up to 1,600,000 hours and the preinstalled Debian-based Moxa Industrial Linux comes with 10-year lifecycle support. This makes the computers ideal for cost- and space-constrained industrial scenarios.
The UC-2100 Series computing platform is designed for embedded data acquisition and processing applications. The computer comes with up to two software selectable RS-232/422/485 full-signal serial ports and single or dual Ethernet ports. This palm-sized series of Arm-based computing platforms includes a variety of models for a wide range of interface requirements, such as single or dual serial and Ethernet ports, Gigabit Ethernet, and wireless connections. These versatile communication capabilities allow users to efficiently adapt the UC‑2100 for a variety of complex communications solutions. The UC-2100 Series has a built-in Cortex-A8 Arm-based processor that has been optimized for a variety of industrial solutions. With its flexible interface options, this tiny embedded computer is a reliable and secure gateway for data acquisition and processing at field sites and is a useful communication platform for many other large-scale deployments. Models designed for wide temperature applications are available for use in extreme environments such as those found in the oil and gas industry. Furthermore, all models use the Moxa Industrial Linux platform, which provides optimized software features and long-term support.

Easy to Install
The small form factor enables easy installation in very tight spaces, making them ideal for space-constrained applications.
Easy to Manage
With Moxa's MXview network management software, you can have clear visibility into the computing status and define event alerts for real-time diagnosis and monitoring.
Easy to Develop
The user-friendly I/O programming library helps you reduce development times and increase transfer efficiency when retrieving data from I/O devices.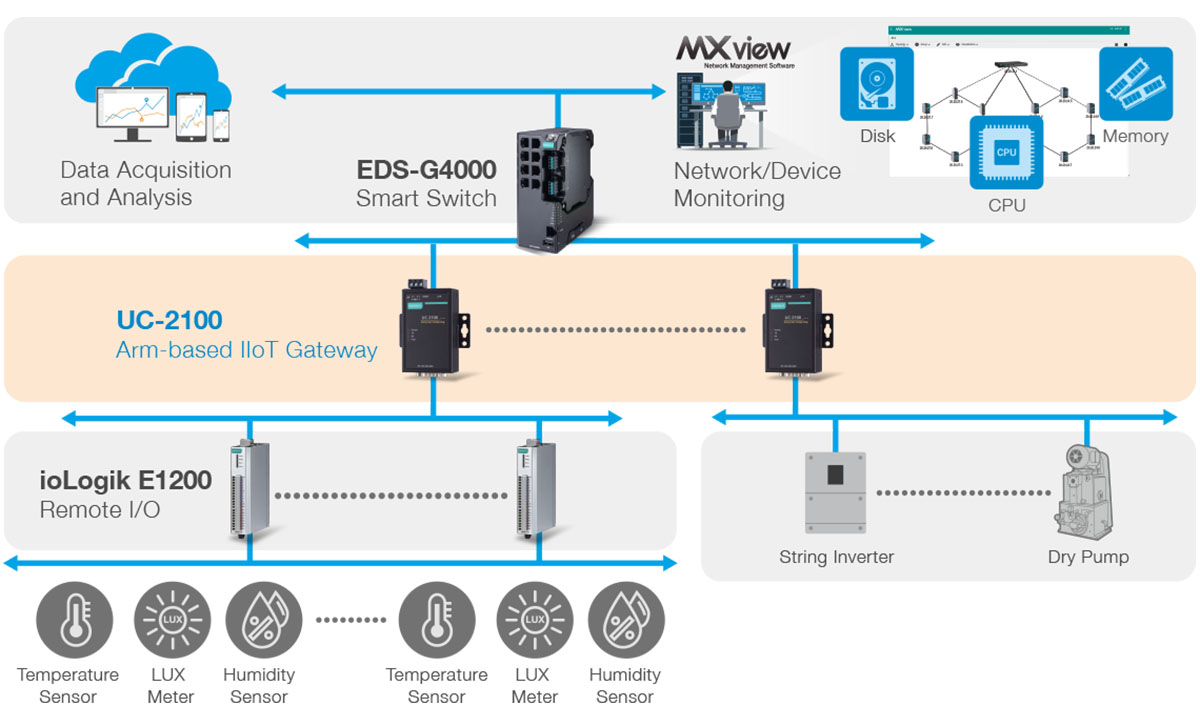 A Integrated Solution for Data Acquisition and Device Monitoring
For fast, efficient device status monitoring and data collection from large-scale or unmanned field sites, the UC-2100 Arm-based IIoT gateway joins forces with Moxa's ioLogik I/O devices and EDS/SDS switches. Sensor data collected by ioLogik I/O devices is actively pushed to the UC-2100, thanks to the embedded MXIO library. EDS/SDS switches then collect the data from the UC-2100 IIoT gateway and transfer it to the control room for data analysis and status monitoring. MXview industrial network management software ties it all together by enabling you to monitor and diagnose networking devices across your industrial networks. This integrated solution significantly reduces the extra costs and effort needed to develop and deploy a variety of applications, such as oil and gas, power, and factory automation.
---
Requirements
Long term OS support, specifically designed for civil infrastructure.
Availability of hardware resources such as drivers, utilities, and APIs to control the gateway interfaces.
Easy-to-configure wireless connectivity.
What UC-2100 can offer
Wall-mount industrial computer that is a mere 50 x 80 x 28mm in size.
Full-signal RS-232/422/485 ports with adjustable resistors.
industry-leading 5 years hardware warranty for Arm-based computers.
-40°C to 75°C wide operating temperature.
C1D2/ATEX/IEC-60945 certified.
Product Highlights
Armv7 Cortex-A8 600-1000 MHz processor
Palm-sized form factor, 50 x 80 x 28 mm
Flexible port design: A combination of auto-sensing Ethernet and software-selectable serial ports
-40 to 75°C wide-temperature design with hazardous locations certification
MXview support for centralized monitoring of devices and computing status
Unified APIs and push-based communication for retrieving data only when needed
Moxa Industrial Linux with 10-year long-term support