Adapt to Changes with big Gains
As the manufacturing industry continues to evolve and improve, the requirements of network infrastructure constantly change when refurbishing or expanding facilities. When these changes take place, there are often space constraints for installing products in existing cabinets or machines.
To keep up with changing connectivity requirements while saving you time and effort, the EDS-2000-EL Series unmanaged switches include 5- and 8-port Ethernet options, with the 5-port model only measuring 18 x 81 x 65 mm. In addition, a robust design allows you to continue to meet your demands for flexibility, reliability, and continuity.
When to Use
Space Matters | Network refurbishment couldn't be easier with the EDS-2000-EL switches, which offer more connection options with a smaller footprint.
Durability Matters | You can enjoy the install-and-forget durability of EDS-2000-EL switches that has been proven by a six-month accelerated life test.**
Latency Matters | With microsecond-level latency, the EDS-2000-EL switches ensure your MES applications can respond faster.
Where to Use
Compact machine | Easy integration into machines
Control Panels | Suitable for compact electronic control panels
Harsh environments | -40 to 75°C operating temperature range available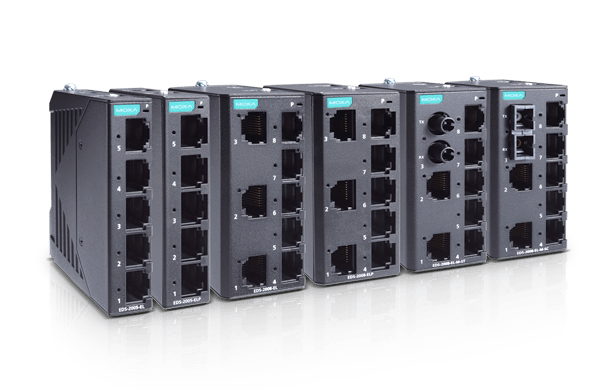 EDS-2000-EL Series
Industrial Unmanaged Ethernet Switches
5 or 8 Ethernet port options
SC/ST fiber models are available for the EDS-2008 Series
Supports 12/24/48 VDC input
Microsecond-level latency
High EMC resistance
QoS and BSP*** DIP switch configuration
Download datasheets