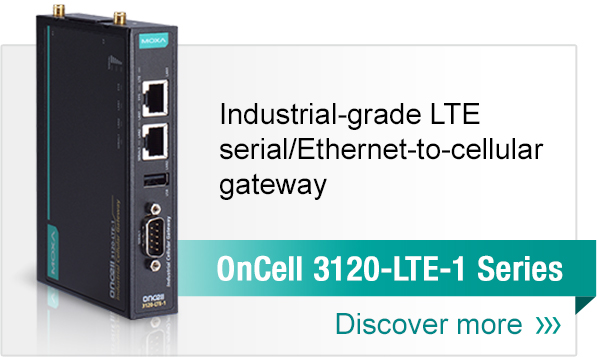 In the changing wireless landscape, industries and cities around the world are seeking reliable long-distance wireless solutions for their remote monitoring applications.
LTE technology is commonly deployed in applications that require long-distance communication and device monitoring capability over a wide area.
OnCell 3120-LTE-1 gateways adopt LTE functionality together with Moxa's GuaranLink technology to provide highly reliable, long-distance wireless connectivity.
The ultra-low power consumption design makes the OnCell 3120-LTE-1 ideal for solar-powered applications while its industrial-grade security and rugged design provides dependable communications for serial and Ethernet devices connected to cellular networks.
Wide network coverage and low power consumption make the OnCell 3120-LTE-1 suitable for deployment in power-constrained long-distance wireless networks.
*EU and AU models are available now. The US model will be available by September 30, 2020.
---