Save Time & Money with Local to Remote Digital Communication
The E1200 series from Moxa is a versatile module that can interpret analogue and/or digital signals and relay them to another unit for processing. There are a few methods for reading a remote analogue or digital signal including, Modbus TCP and Ethernet/IP aka Ethernet / Industrial Protocol. This article however, focuses on relaying a remote devices digital input to a local devices digital outputs.
---
In this article refers to local as where the user is, and remote as field device some distance away.
Often, PLC or instrumentation clusters are located in a control room far from the actual instrument source – sometimes even in different geographical areas separated by hundreds of kilometres. The E1200 series is an Ethernet enabled device with the ability to exist on Ethernet & TCP/IP networks, because of this connectivity, two or more E1200 series devices can communicate over an existing LAN, WAN, wireless or Ethernet mediums.
The E1200 series has a function called 'Peer to Peer' – this allows the user to program a mapping between the input channel of a remote device, and map it to one or more output channels of a local unit or units. This effectively brings the remote units inputs to the local device for direct connection and or monitoring. Note that the local input can be mapped to a remote output and vice versa.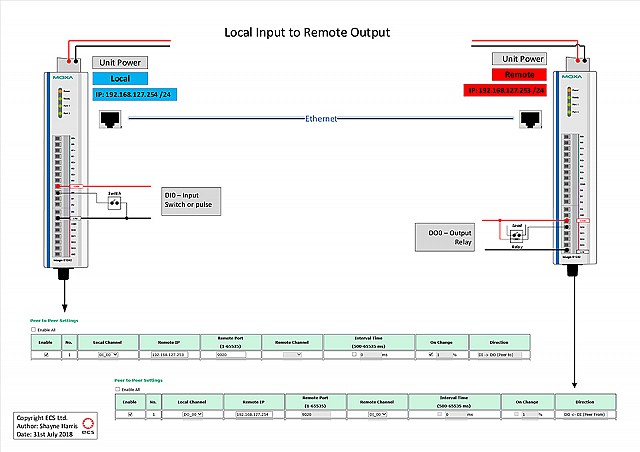 In the attached lab we are polling DI0 [digital input, channel 0] to send a corresponding signal to DO0 [digital output, channel 0], thus grounding the relay coil and turning on the relay contacts at the remote site. The peer to peer rules need to be created on both units, each referencing each other's remote IP, port and channel.
---
There are many more possible scenarios and applications for the E1200 series, please contact ECS sales for additional support on 0800 849 2211.