With more and more field devices being connected to the industrial IoT (Internet of Things), the need to keep all those "things" continuously connected to the Internet has put a premium on networking products that can deliver continuous connectivity without human intervention.
To deploy your I/O data to the cloud easily and effortlessly, you first need to retrieve the I/O data from the Local region and then convert it to the appropriate protocol.
---
Once all the data has been prepared for transmission, the final step is to push the data up to your OT (Private Cloud) and/or IT (Public Cloud) platform.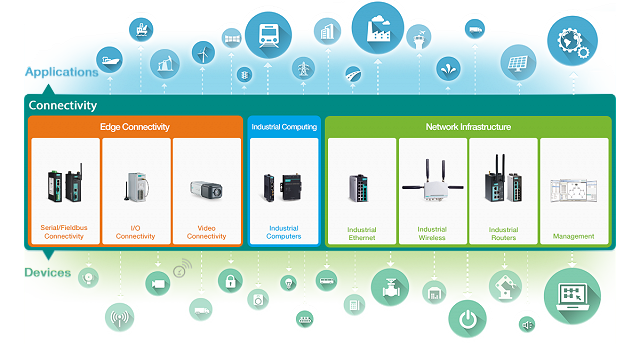 End-to-End Industrial IoT Product Systems

MOXA MX-AOPC UA Suite

Cohesive, secure, and reliable connection between device, database, and SCADA Learn More

IIoT Gateway Starter Kit

Manage remote field devices and push data to the public cloud
Learn More

MOXA ioLogik E1200 Series

Simple, daisy-chain wiring, dynamic Modbus addressing for simple integration, handy utility for easy mass deployment Learn More

MOXA ioLogik E2500 Series

Receive data from remote devices, generate tags, actively update the sensor values to MOXA's OPC Server Learn More
Just getting started with IIoT?
MOXA have created a useful IIoT Connectivity Excel Workbook which includes a 5-step plan to help get you started. Assess your operational pain points, develop and prioritise operational goals, identify current equipment and assets related to goals, identify current equipment and assets related to goals and then finally justify your investment. You can also learn more about Edge Connectivity, Industrial Computing, and Network Infrastructure; the three main types of solutions in the connectivity layer that can help with interoperability.
---

For more information on our range of Industrial IoT products, call the New Zealand MOXA sales team on 0800 849 2211 or fill out our enquiry form below.