The new toolbox system by CIMCO, setting the new standard in Premium.
The new and sophisticated toolbox series with a number of completely new features rounds off our DIAMANT quality line with an additional product group.
During the development stage, all the user requirements for a robust and practical toolbox were systematically taken into account so all important criteria are fulfilled with the master toolbox DIAMANT.
In addition to working convenience, the toolbox system is designed for maximum service life. With the use of mostly recyclable materials, emphasis was placed not only on the environment but also on the highest-possible resistance to dirt and moisture.
---
Aluminium frames also provides maximum strength
The master toolbox DIAMANT can be equipped with up to 25 kg of tools in its basic version. With the attachment of the supplementary frame across the case cover, the carrying capacity is increased to a max. of 35 kg.
The version with two supplementary longitudinal frames offers a carrying capacity of up to 45 kg.
---
Tool boards with quick change system and 30° incline
The equipped tool boards in the case cover can be removed directly from the case. Thus the tools do not have to be placed on the floor when space is limited.
When you open the case, the tool board located in the case cover inclines to a max. of 30° in the direction of the case opening, which allows you to remove the tools quickly and easily.
---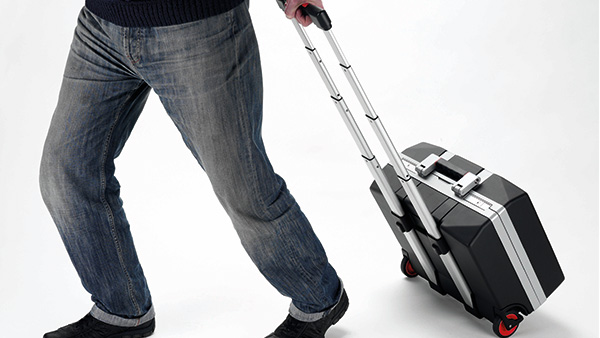 Ergonomic trolley function
The telescopic system can be extended to a max. of 110 cm. Due to the distance this creates from your body, you do not have to worry about the toolbox accidentally hitting your heals when you pull it.
This also ensures that your posture remains in an upright and healthy.
---

Tool receivers with rubberised insertion slots/straps
The tool straps are equipped with an elastic material and a clever clamping system to hold the tools in place.
Both variants are open in the bottom area and thus provide for the reception of longer tools (e.g. screwdrivers)
---
ECS have available the full range of CIMCO Hardshell Tool Cases, Tool Bags and Populated Tool Kits. Go to ECS EXPRESS online to purchase from this range of high quality German manufactured products delivered freight free within New Zealand*.
If you would like more information on the CIMCO Trade Tool range checkout our CIMCO NZ site at www.ecsnz.com/cimco, fill out our inquiry contact form below, or feel free to call ECS Sales on 0800 849 2211.
*ECS EXPRESS online freight free for orders over $100